A new frozen yogurt shop in Manhattan, New York. Very clean simple and with some really great features, particularly the large seating 'pods' with mirrored backs and the illuminated far yogurt dispensing wall.
Originally from Contemporist.
A 'fresh street corner supermarket' for Morrisons new M Local concept in Ilkley West Yorkshire.
Of particular note, a large use of fresh (some might say Asda) green and a very architectural girder or two that run through the space.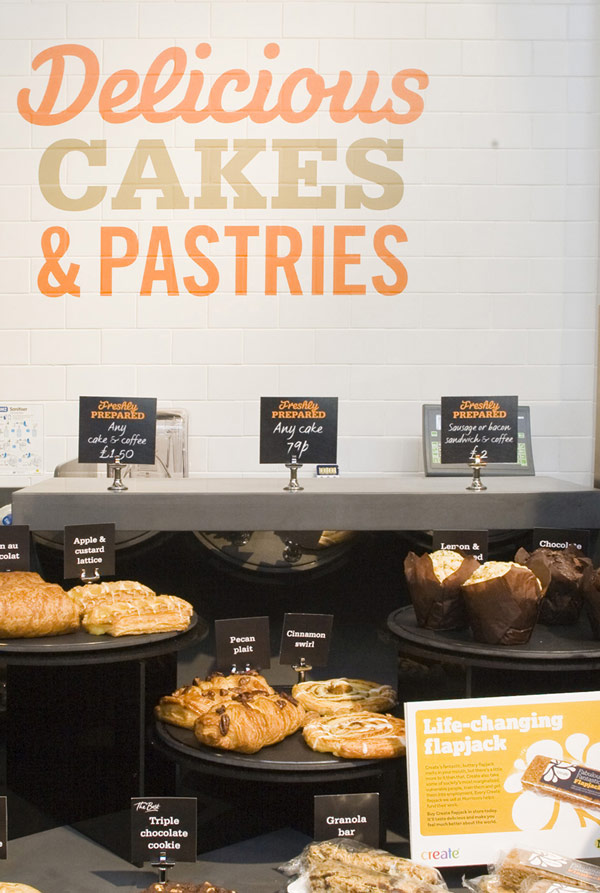 Spotted on LSN Global and Popsop and Fitch
Or an alternative title is 'Retail is detail'
A few quick snaps from a visit to Cath Kidston in York, really illustrating that consistency through the store creates a great retail experience. Just take a look at some of the detail and love that's gone into the setting out of the shop.
This little old blog featured in the May edition of Retail Focus which subscribers can read on line (for free). Well worth subscribing to in particular for their coverage of VM.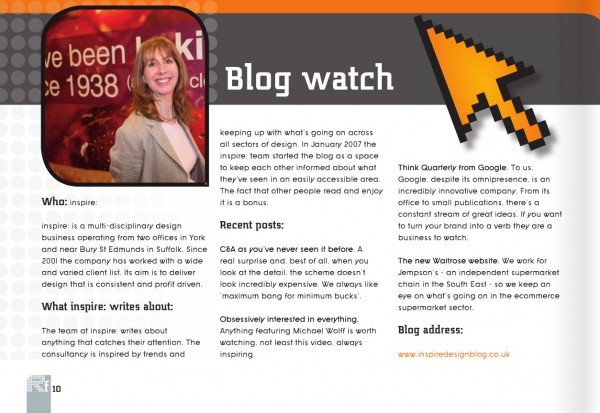 Coming to Shoreditch, London in August 2011 is Boxpark. A pop up mall of 60 containers on two floors located opposite the Tea Building.
More information and a nice little video on the Boxpark website. Definitely worth a visit in the summer to what should be an interesting and original addition to Shoreditch.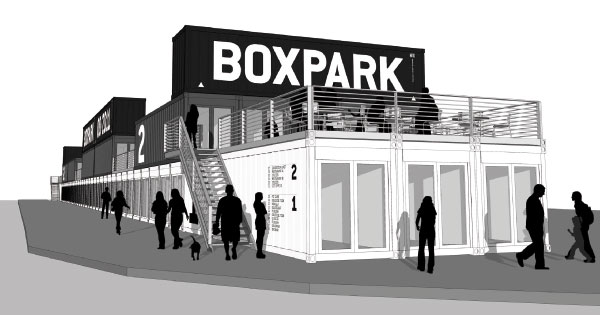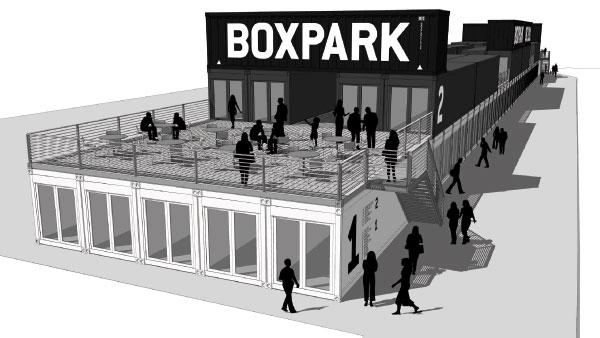 Very nice Mexican café. So much time and energy has gone into this and a fantastic use of colour and type. Just goes to show you don't need supersize product images to get your style and flavour across.





Spotted at The Dieline
Who knew C&A could look like this. Just shows what a bit of South American pizazz can do. Of particular note are the light fittings just showing how much can be achieved with simple ideas well executed.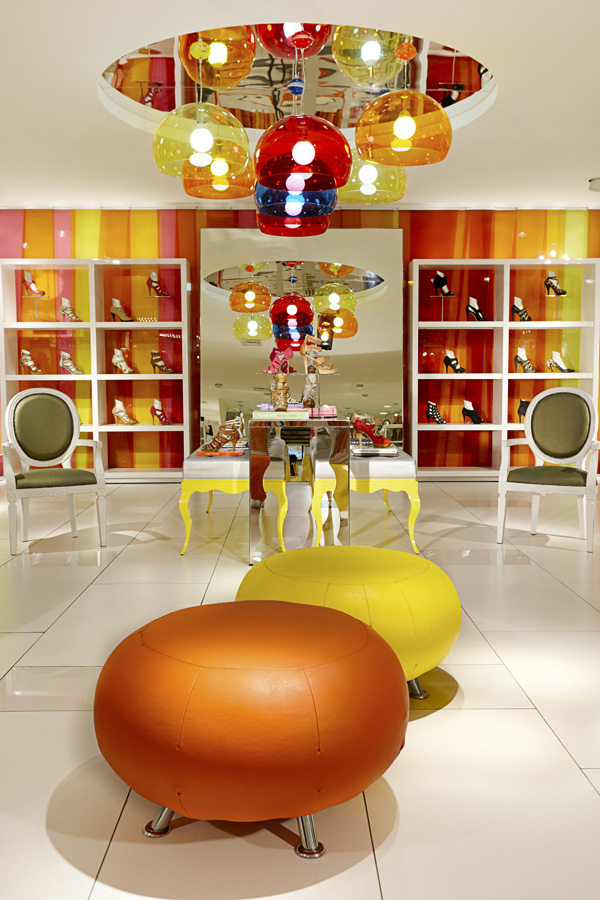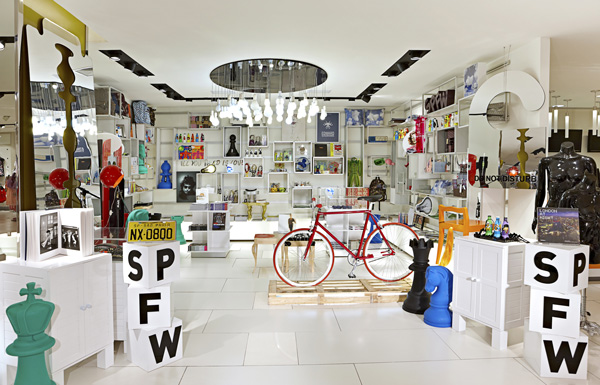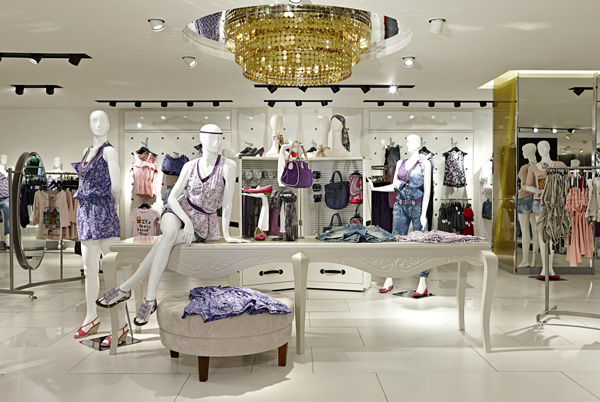 Spotted on LSN Global.
http://www.youtube.com/watch?feature=player_embedded&v=BTfAzjBTokc
Google launches Think Quarterly, "a space to take time out and consider what's happening and why it matters." This issue is dedicated to data.
Today Waitrose launched their new website. Overall a more streamlined sophisticated look with more to do on the home page.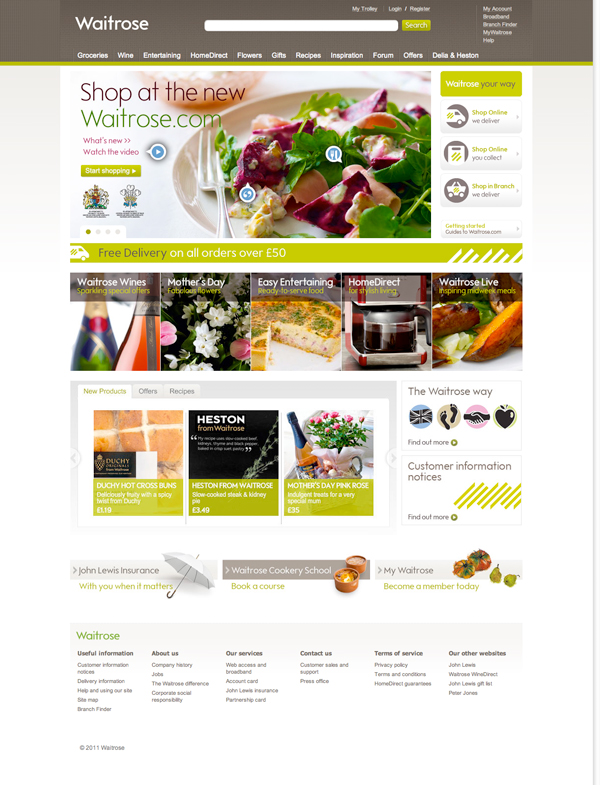 Gone is the enormous site map in the footer replaced with a neater version. Navigation is cleaner and the 'value' bright green is replaced with a more elegant textured brown and olive green.
In the details of particular note are the areas on the introductory slideshow where icons give the viewer the option to click and see more information. In the bricks and mortar world, this 'getting to know the store' time is called a decompression zone, here on a website this type of interaction as well as the other tabbed layouts beneath the slideshow create a lot of interest on the home page. Also of note is that these longer home pages look good on a vertical iPad. Starting to see more websites that make better use of the lower half of a vertical screen.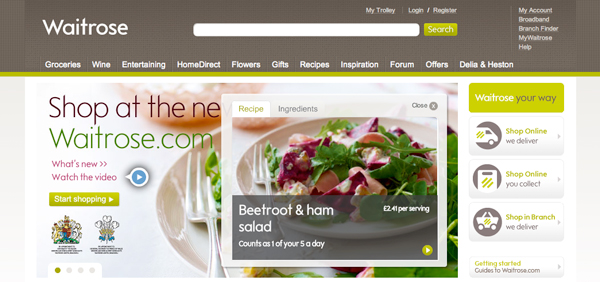 For posterity, below is the old Waitrose website. Here's the new one www.waitrose.com