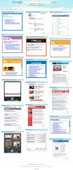 Google has launched UK Retail Industry Gadgets. All the UK news you need in one easy place. You'll need an iGoogle account and many hours to spend reading all this stuff.
Click the thumbnail for a larger view.
If you enjoyed this post, please leave a comment or subscribe to the feed and get future articles delivered to your feed reader.